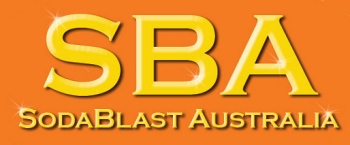 home | services | before & after | photo gallery | faq's | msds | about us | links | contact us
About Us

SBA Sodablast Australia are a 100% Australian owned company offering both in house and onsite soda blasting services.

In House blasting services:
Our 6 x 7.5mtr blast room is located at Agnes Banks which is west from Sydney. We are 5mins from Richmond and 20 mins from Penrith. Whilst Soda blasting is our main focus, in response to customer requests we have added abrasive blasting to our blasting services. As we tend to do a lot of vehicle restoration work, we are able to offer to customers within the Sydney metro area a pick up and delivery service. Obviously this is an additional charge but it takes the hassle out of organising vehicle transport. For a relatively small fee SBA will pick up your vehicle, do the stripping required and deliver the vehicle back to either your own address or your nominated body shop, what could be simpler.

Onsite Mobile Services:
Our Mobile Onsite Soda blasting is the core of our business. To cater for this we have two mobile Soda Blasting units. The first is our single axle trailered Single Blast pot mobile system which is manufactured in the USA. Itís powerful, compact and very mobile which allows us to reach areas most other companies cannot. As an example of this, in December 2007 this unit was craned to the top of a 36 storey building in the middle of North Sydney where we had to Soda blast some galvanised coated Steel girders. Soda blasting was the only option for this project so as not to damage the galvanised coating, and SBA were the chosen contractor to take on such a challenge. When it comes to mobile soda blasting, it doesnít get much more mobile than that. This unit has also been placed on barges to gain access to slipways where access by road is not an option.

Our second and slightly larger mobile Soda Blasting unit is also from the USA. It uses the same Diesel driven Screw Compressor as our smaller system, however this is a much bigger unit which has two soda blasting pots mounted on a tandem axle trailer. This unit is generally used on jobs where two Soda Blasting operators are required at the same time.

Portable Booth:
As an inclusion to our mobile Soda blasting systems is our mobile blasting booth. This is used where there is sufficient area for it to be erected and the dust needs to be contained. Our mobile dust extraction system is also used when operating inside this booth.

Media:
We use and recommend Natrium 260 Soda Blasting Media which is the best soda blasting media available (we know because we have tried them all). It is pure sodium bicarbonate so there are no additional environmental issues to deal with when it is being used on site. The manufacturing process gives a consistent, predictable product. With every shipment of Natrium 260 Soda blasting media we receive, there is an analysis report on that specific batch. We are happy to furnish this information to anyone, along with the MSDS (Material Safety Data Sheet) if requested.

SBA Sodablast Australia pride ourselves on providing exceptional service at competitive rates. We do our level best for all our customers, no matter how big or small your project is. We carry full Public Liability insurance as well as Ship repairers insurance, and are proud members of the BIA (Boating Industry Association).


© Copyright 2008 All Rights Reserved SBA Sodablast Australia Pty Ltd

SBA Sodablast Australia Pty Ltd
Lot 24 Crowleys Lane, Agnes Banks NSW 2753
Tel: 02 4578 5748 or 0418 113 924
info@sbasodablastaustralia.com - www.sbasodablastaustralia.com
Designed by Websites 4 Small Business